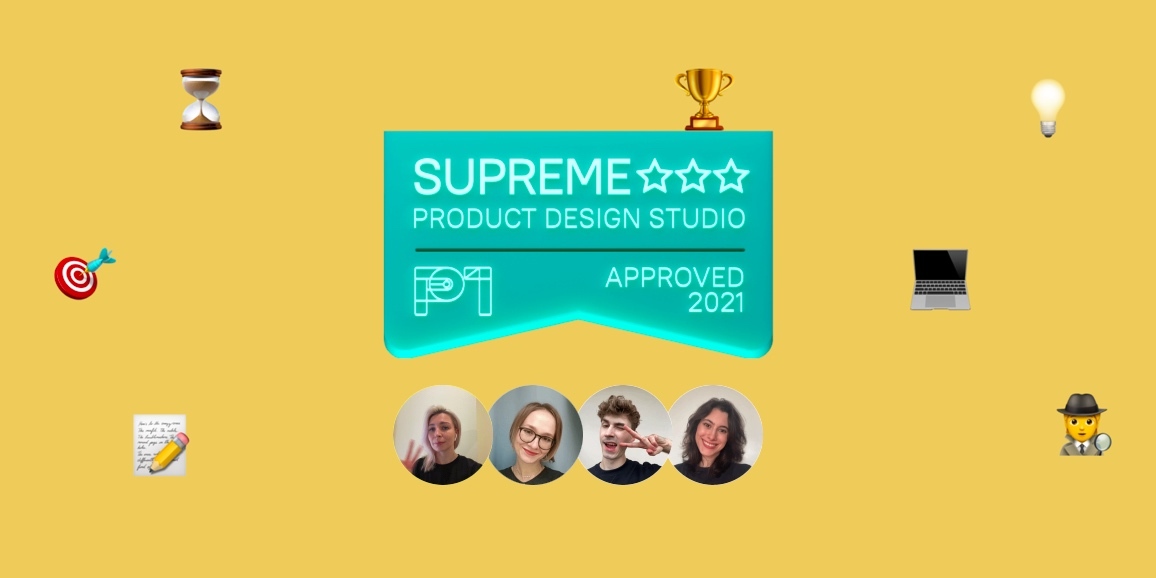 What is Pioneum?

Position Oneum (Pioneum) is a case competition (or, to be word-perfect, championship) for digital design studios. Participants are asked to choose one or two industries where their team must solve a real product case. The solution is then assessed by the product owner and a jury of experts representing major companies. Depending on the points won, the studios can receive one of the three badges: Fundamental, Excellent, or Supreme.

In 2021, seven industries were represented in the competition: financial services, retail, food tech, communications, analytics and business processes, pharma, and education.


🔥🔥🔥
Why should a studio participate?

Pioneum is a great opportunity for a studio to try to solve real-world problems without any financial or reputational risks. The competition allows studios to showcase their expertise. It also offers an excellent opportunity for networking and for making a noise in the media.

We saw the championship as a way for us to gain new experience and experiment with new work models.



We chose only one industry: retail. The thinking behind it was that the problems an e-commerce product can face are more likely to go beyond one specific case and be relevant to the whole industry. Therefore, the expertise we would gain could be used in our future work with existing and new clients. Here you can find our case studies for the beauty and retail industries.



Training

This year's Pioneum included not only the competition itself but also training. Over the course of three weeks, we attended lectures on UX research and storytelling, learned to give presentations, and do metrics-driven development.

The training went on for three weeks, three days per week.

Each week we focused on a new topic:


Product work and strategy.
Planning tools: from research to finance.
Business presentation skills, pitching, and storytelling.
This is all essential knowledge necessary for real casework. There was a lot to learn for designers, developers, and managers alike. It is always interesting to learn not only what you need in your work but also what your colleagues do. Every workshop included practice and feedback from the trainer. Each of the homework assignments required up to five hours of teamwork. We would either go to a cafe or meet up online and work together on our tasks.
🔥🔥🔥
What did we like?



We learned new things and remembered what we already knew but had never put to use before. During the lectures, our trainers provided us with a lot of interactive tasks and gave us interesting homework assignments closely resembling real-world business problems. We had a great time doing our homework together.


This year, our team took part in the Pioneum championship. But before solving the case, we had been trained in product development for an entire month. Most of all, I liked the lectures on hypothesis checking and building financial models. Still, I think that the really cool guys who trained us could have made the rating lists bigger because they clearly have a lot to share.



I think that our solution for the case was really good and well-structured; I'm really happy that FOAM will be introducing its elements to their business. And it ended up being so good largely because of how successful we had been with our training and with understanding what was expected of us.
Natalia

project manager
🔥🔥🔥
Our Team

We announced to all our studio staff: everyone could join the case team or simply come and listen to the lectures. Unfortunately, not everyone had the time and energy to take part in the competition, so our team ended up consisting of just two designers and two project managers. If we had also had a product analyst and a strategist on board, we would have saved a fair amount of time during the first stage. Without them, we had to deal with the metrics and the strategy ourselves.



As a result, the experts noticed that our solution lacked predictions of the product metrics and didn't have a sufficiently thorough approach to the strategy and to connecting the metrics with the solution.




What I particularly liked about the training we received at Pioneum was the broad scope of topics — the fact that we looked into economics, business, and strategy. As a designer, I usually don't have to deal with these aspects, but here we looked at all of them.
All went pretty well. I really enjoyed it.
Mila

designer

What you certainly shouldn't be doing when preparing for Pioneum is picking your team at random, taking on anyone who has agreed to join. Problems that need to be solved at Pioneum are really difficult, and a strong team is an important part of a successful strategy. We didn't know what was awaiting us at the competition and were lucky that our team turned out to be so strong. Next year, we are going to be even more serious about choosing the team members. Certain companies, such as Pinkman and MobileUp, take part in Pioneum with a determination to win. We also want to compete for the first prize.

Part of the project was done separately: the designers were working on the mock-ups, while the managers conducted the interviews. Still, all the research and hypothesis generation were done as a team effort.


What I liked about the training was the interactive format of the lectures. We even had the opportunity to chat with the lecturers and read the cases of other companies and the folks who work in them. There were interesting sections on finance and on conducting research — I found both of them pretty handy afterwards while solving our case.
I would also like to point out the rather fast pace at which we had to undergo the training following a full day of regular work, then do our assignments, and then finally solve the actual case. But generally speaking, I'm happy with the result that we achieved. We received a high score, and FOAM singled out our solution, saying that they would try and implement both our design and our strategy for the loyalty program.
So next year, if possible, I would like to participate again. The only thing is, we'll need to schedule more time for the presentation.
Ksenia

project manager

This is quite an achievement, for it is pretty rare for designers and managers to work together on the same task. Our experience working in this horizontal mode has shown that teamwork is something that we still need to level up. The championship helped us realise that brainstorming is generally more productive than individual work when each team member focuses on a separate part of the potential solution. Our combined personal experience helped us find unorthodox solutions as well as hidden problems that we wouldn't identify working on our own. To know more about our team, look at our team page

.





🔥🔥🔥
The Case

We worked on a case for the cosmetics store FOAM, which was struggling with a low second-purchase conversion rate. It is typical for 30-45% of customers of online beauty stores to return for another purchase (according to FOAM's data), yet the company was only getting 16%. The store had a loyalty program, but the owners were unsure whether it worked properly and met the customers' needs. We had to sort it all out.




One month is given to solve the case. We received our materials on May 15. The document provided by FOAM included links to the surveys that they had conducted, a description of the problem, and information about the company. All this information was interesting, but it wasn't enough, so we collected more data from open sources, e.g., customers' reviews about the store. We also asked FOAM for additional materials such as access to their analytics and newsletter data.




We had one month to prepare a solution for the cosmetics store FOAM


It looked like the case was lacking information and structure. Our first meeting with FOAM was scheduled for the week following the start of the competition. In hindsight, we probably should have held the meeting earlier so that our team could get access to all the necessary data as soon as possible and ask all of their questions right away. The FOAM team was open to communication and would be happy to cooperate more, but we only had two meetings.

The document provided by the organisers informed us of the competition's rules and deadlines.

One month later, on June 15, we had to upload two PDF files with our solution as well as a screencast featuring our presentation. All the participants were required to keep their presentations anonymous by recording only their screens and not showing their companies' logos or the presenters' names. This way, the organisers made sure that the jury would remain unbiased when judging the entries. However, the version with the logo and info about the team also had to be sent in to be later published on the competition's website once the results were announced — hence the two PDF files.




While working on the case we ended up doing a lot of things for the first time. For example, we had to set our own limits for the solution to be able to focus on the few most important hypotheses. Usually, we discuss all the limitations with the client before we start our projects. This was the first time that we did the interviewing ourselves, as well as hypotheses validation by studying analytics.





We made a mistake and were preparing our presentation on the last day. As a result, we recorded the screencast just 15 minutes before the deadline, and there wasn't any time left for polishing the delivery. As always, if we had had another day, everything would have been different.



After the training stage, we tried to create a plan for our future casework, thinking we would be able to fit it into our regular schedule. The organisers of the competition had informed all the participants that they would need to allocate approximately 70 hours for teamwork. The four of us spent around 200 working hours.




The organisers estimated 70 hours for teamwork, but the four of us spent around 200 working hours
This was our time management strategy:

30% – Processing the initial data (including those that we requested from FOAM or had gleaned ourselves) and generating initial hypotheses.

30% – Additional research and hypothesis validation.

30% – Solution and presentation.

10% – Contingency time.



Without this plan, it would be pretty hard to move from one stage to the next: stop generating hypotheses, conducting interviews and doing research, and start working on the solution, or finally realise that it was time to create the presentation. Our plan was to prepare for the competition during our working hours between regular business tasks, but this wasn't easy.



We had a great and productive time having locked ourselves in our home office for 11 hours.
What I liked about the training was the interactive format of the lectures. We even had the opportunity to chat with the lecturers and read the cases of other companies and the folks who work in them. There were interesting sections on finance and on conducting research — I found both of them pretty handy afterwards while solving our case.
We planned to prepare for the competition during our working hours between regular business tasks, which we soon discovered was not easy. Switching between my daily tasks and Pioneum was a real challenge for me. I had to spend my own time in order to achieve the set goals.
Still, I really enjoyed it when we all got together one Saturday and locked ourselves in an apartment with cherries and chips for ten hours. That day we managed to get more work done than in the previous week and a half. It reminded me of hackathons. We had great fun. I totally recommend it!
Igor designer
After one month of training with homework assignments we had to do in the evenings and on weekends, it was hard to work overtime for yet another month to solve the case. Yet, the fact that we worked in a small team was very motivating and helped us to stay fully committed.
Natalia project manager

After finally submitting our presentation, we felt completely drained. We liked our solution. It was logical and looked great, but we were not sure that we would get a high score. Still, we were glad that we had taken part in the competition. We all had a truly great time, learned a lot of new things, and worked together on a really cool project. All that was left to do was to wait for the results.



Our participation this year was largely a trial run, so we had to constantly bounce between current work and solving the case. However, we could come up with a list of rules that allowed us to arrive at such an impressive solution:


Keep your eyes on the ball: all participants need to know what their teammates are currently working on and who is in charge of any particular task. This way, if in your work you come across some idea or artefact that is potentially helpful to one of your colleagues, you can easily pass it on to them.
Support each other: if a participant can help other team members by joining in on their tasks, he or she shouldn't be shy of doing so. For example, at first, we divided the interview transcribing duties equally between all of the team members. But then the managers fully took over that task to save the designers' precious time.
Set deadlines: it is almost impossible to move forward without them. In a competition like this, it is very tempting to be overly perfectionist with every task. However, the moment you miss the deadline your solution is rendered useless.
Allocate as much time as possible for brainstorming, as it generates the best ideas.
Take your questions — even the most unexpected ones — to the case team: this can give your ideas a new spin and help to define existing limitations.
🔥🔥🔥
Assessment

Entries were assessed and given a total score of up to 100 points based on the three criteria: product strategy and product development process (up to 40 points), implementation of product development tools (up to 40 points), and presentation skills (up to 20 points).



We were worried about each of the criteria, but in the end, our solution received the second-highest score, separated from the winner by only half a point. The experts praised the depth of our analysis of the case and our UX expertise, while FOAM said that our solutions would be prioritised when renewing the company's website design and customer loyalty program.




Next time, we would like to receive detailed feedback from the experts, as this year, one of the judges gave us 12 points yet left a review that only addressed the positive aspects of our work. It would be best to know what our mistakes were and where we could improve.

What also seemed perplexing is that one of the studios was judged by only two experts, while three juries judged the others. This might have resulted in a higher average score.



Look at our products development service to know more about how we do commercial projects.




And awesome news: Func has been recognized as one of the Top United Kingdom Digital Agencies by Design Rush




🔥🔥🔥



Conclusion
Everything went very well: we gained new experience, solved the client's problem, almost won, and had a lot of fun in the process. The client really liked our approach, and they will be implementing our ideas while renewing their website. Next year, we will schedule more time for participation in Pioneum 2022 and try to have a better-structured way of dealing with the case.

Should agencies and studios participate in Pioneum 2022 even if they don't specialise in product development? Certainly yes. In any case, you will get valuable experience and might discover new points of growth for your company and its staff.

Did we enjoy it? Very much so! It was extremely interesting, useful, and fun.

Are we planning to participate again? Yes! Moreover, next time we aim to not only defend the contest's highest badge but also win.



See you in 2022!



We accept projects at any development stage. Let's work together! Contact us